Explore German Art in Milwaukee with the Friends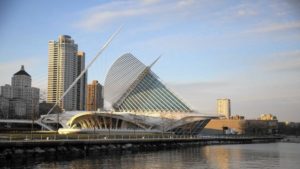 This year's Friends of the Max Kade Institute Annual Meeting will take us to Milwaukee, where we will learn about the magnificent German art treasures that have been collected in the city for well over 150 years. We will begin with a private, guided tour of the German art collection at the Milwaukee Art Museum (MAM), where, after major renovations, a thousand works of art have been added to the galleries.
Our day will continue with the annual meeting and a dinner at the Envoy Restaurant in the historic Ambassador Inn Hotel, an Art Deco icon. We will conclude the evening with a lecture entitled "German Art, American City: The Fishman Collection in Milwaukee's Museums" by Curtis L. Carter, Professor of Philosophy and Aesthetics at Marquette University.
For details and registration information click HERE.