The October 1, 2016, "Deciphering Old German Script" workshop has reached the maximum number of participants,  and registration is now CLOSED. 
Our apologies to those who were not able to get in. We will offer another "Deciphering Old German Script" workshop at a future date.
Online registration: PayPal email notification "receipt for payment to Friends of the Max Kade Institute/ Old German Script Workshop" shows that you have successfully registered for this workshop.
Registration by mail: Unfortunately we will only be able to consider registrations that were mailed on or before September 1, 2016. You will receive an email confirmation of your registration.
Deciphering Old German Script
Saturday, October 1, 2016, 9:00am–3:30pm
Union South, University of Wisconsin–Madison
1308 W Dayton Street, Madison
Presenter: Mark L. Louden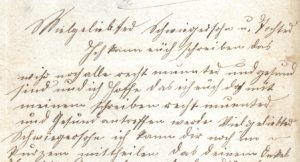 Are you a historian trying to decipher old German handwritten documents? A genealogist researching your German-speaking ancestors? In this workshop, Mark Louden will introduce participants to the basics of reading German handwritten materials, with a special focus on those from the 19th century. The workshop combines presentations with practical exercises. Participants are welcome to bring copies of documents they are interested in working on. Though a reading knowledge of German is helpful, it is not required.
Mark Louden is the Director of the Max Kade Institute for German-American Studies and a Professor in the German Department at the University of Wisconsin–Madison.
LUNCH included!  Please choose from one of the following sandwich options.  All sandwiches come with a green salad, chips, cookie, and soda/ water.
Smoked Turkey & Munster
Roast Beef & Provolone
Hummus with Cucumber, Red Bell Pepper, Fresh Cilantro & Feta-Pinenut-Spread
Workshop Fee (includes lunch)
Regular: $34
Member of the Friends of MKI: $29
Member of the Wisconsin Historical Society: $29
UW student: $19
PARKING: Public parking is available in a garage underneath Union South (Lot 80), accessible from W. Dayton Street.  If this garage is full, go to the Engineering Drive Ramp (Lot 17) on Engineering Drive, directly west of Union South, turning west from Randall Street.  Click here for a Campus Parking Map.
Contact: Antje Petty, apetty@wisc.edu, 608-262-7546
Co-sponsored by the Wisconsin Historical Society