Every May, members of the Friends of the Max Kade Institute gather in a different location in Wisconsin for their annual meeting. These meetings are fun-filled days that include not just the business meeting, but tours of historic places, lectures, and a German-style dinner.
—————————————————————————————–
 Annual Meeting 2017 – Sunday, May 7 — Explore German Art in Milwaukee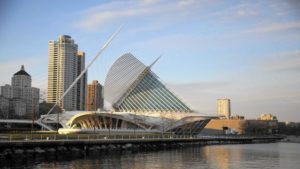 This year's Friends of the Max Kade Institute Annual Meeting will take us to Milwaukee, where we will learn about the magnificent German art treasures that have been collected in the city for well over 150 years. We will begin with a private, guided tour of the German art collection at the Milwaukee Art Museum (MAM), where, after major renovations, a thousand works of art have been added to the galleries. Our day will continue with the annual meeting and a dinner at the Envoy Restaurant in the historic Ambassador Inn Hotel, an Art Deco icon. We will conclude the evening with a lecture entitled "German Art, American City: The Fishman Collection in Milwaukee's Museums" by Curtis L. Carter, Professor of Philosophy and Aesthetics at Marquette University.
2:00 – 3:00      Tour of German Art Collection at the Milwaukee Art Museum (700 N. Art Museum Drive) Please arrive 15 minutes early, and use the museum group entrance!
3:00 – 4:00      Opportunity to explore the museum on your own; drive to Envoy Restaurant
4:00 – 5:00      Business Meeting at the Envoy Restaurant (Ambassador Hotel, 2308 W Wisconsin Ave)
5:00 – 5:30      Socializing
5:30 – 6:30      Dinner
6:30 – 7:30      Lecture: Curtis L. Carter, Marquette University
Bring a friend – Make a Friend!
Dinner purchase includes Friends of the MKI membership for the year 2017 for new Friends.
If you have questions, contact Antje Petty at the Max Kade Institute (608-262-7546 or apetty@wisc.edu).
——————————————————————————————-
Check out some of our previous annual meetings!


Annual Meeting 2015 in Madison
Annual Meeting 2014 in Janesville
Annual Meeting 2013 in Eau Claire
Annual Meeting 2012 in Watertown
Annual Meeting 2011 in St. Nazianz
Annual Meeting 2010 in Milwaukee
Annual Meeting 2009 in Dodge County
Annual Meeting 2008 in Marathon County
Annual Meeting 2006 in West Bend